The key to successful strategic change is to tailor projects to unique needs, tapping in-house skills and knowledge.  We customise strategic performance measures to enhance governance and management using practical processes and measures.  Our "Ideas for Business" present experience-based knowledge that can be applied to a wide range of business situations.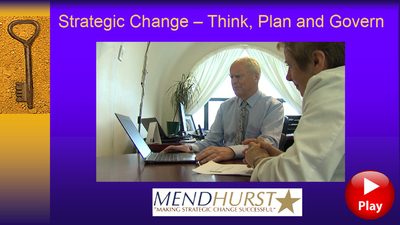 In this short video, John Mendzela explains how a thoughtful approach to business change can more clearly define strategic programs and initiatives. Performance monitoring and reporting that differentiates between business-as-usual, business improvement projects and genuinely strategic activity builds a strong foundation for governing change.
John Mendzela brings strategy to active life through simplicity and practicality. He approaches governance, strategy, technology, processes and people as an integrated whole to achieve synergy across ownership, governance and management roles. John customises strategic performance measures to enhance governance and management, and develops practical processes to make strategic change effective.
John is available to clients for strategic management, governance and business change projects. Visit our Central Banking,  Financial Sector or Services and Manufacturing pages to see client engagements or download John Mendzela's service profiles.
We bring a fresh and practical approach to strategic change that responds to reality without compromising the three key requirements outlined below.  
Strategic Change Essential #1 -- Clear directions: find a practical and sustainable change path

Strategic thinking is the start of business success. What was good enough yesterday is rarely good enough for tomorrow, so strategic thinking usually leads to change. The key strategic principles of choice and focus need to be applied boldly but realistically.

Strategic choice and focus should be based on specific competitive reality, not just "me too" thinking. The optimum combination of strategic goals, organisation structures, planning and budgeting systems, job roles, business processes, technology and performance measures for your organisation needs to be uniquely tailored.
Strategic Change Essential #2 -- Agile implementation: make change happen effectively in the real world
 
A practical and sustainable change path is not enough. To be effective in the real world, strategy must make a real difference to operations. Inspiring strategic directions must deliver tangible results.

The skills to manage change are often in short supply. Simple, low-overhead techniques are needed to make sure the right things happen, and happen right. Traditional project management – balancing quality, time and cost - must be combined with the attention to scope and linkage that achieves integrated change outcomes.
Strategic Change Essential #3 -- Matching people to outcomes: build capability and commitment to change
 
Organisations are groups of people. Sustainable strategic change demands effective leadership and staff commitment. Personal goals and behaviour must be aligned with organisational change goals to deliver lasting outcomes.

High individual and team performance is the key to organisational effectiveness and competitive advantage. That demands excellence throughout the people cycle: recruit right, motivate realistically, communicate well, develop individual capability, build effective teams and maximise performance. Simple practical approaches can develop internal leaders and achieve genuine behavioural change.